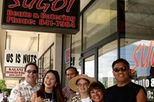 Hole-in-the-Wall Food Tour of Honolulu
Price: 103.99

Prepare yourself for a fantastic day of eating behind-the-scenes in beautiful Honolulu. Featuring yummy food, fascinating history and culinary decadence, you will need to bring a big appetite for this tour, where you'll taste and touch different foods and visit the exotic ethnic restaurants that contribute to Honolulu's delicious melting pot.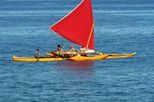 Hawaiian Outrigger Canoe and Snorkel Adventure
Price: 103.12

Sail the beautiful Wailea Coast on the Hawaiian Outrigger Canoe and Snorkel Adventure. Learn about outrigger canoes and Polynesian navigation, snorkel with prehistoric sea turtles in the cool blue waters and spot all kinds of marine life including dolphins and whales or simply relax on the water trampolines.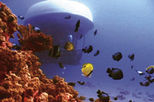 Maui Atlantis Submarine Adventure
Price: 103.09

The biggest attraction on Maui is below the ocean, and the Atlantis Submarine Adventure is your ticket to see it! Your once-in-a-lifetime undersea adventure in an Atlantis Submarine takes you into a spectacular blue world in spacious air-conditioned comfort.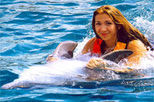 Swimming with Dolphins at Sea Life Park Hawaii
Price: 98.99

Sea Life Park Hawaii offers you a fantastic opportunity to get up close and personal with the ocean's favorite resident. You can choose from three different Swimming with Dolphins activities, perfect for all ages, budgets and levels of confidence. Entrance is included so you are free to explore the other attractions at the park before or after your dolphin swim.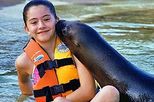 Swimming with Sea Lions at Sea Life Park Hawaii
Price: 97.99

Swim and play with sea lions in a safe and friendly environment at Sea Life Park Hawaii! Pet, kiss and hug these adorable marine creatures and help their trainer give them orders with a unique and special signaling system. This is an experience not to be missed when on vacation in Honolulu!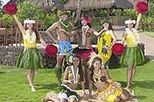 Old Lahaina Luau Maui
Price: 95.99

The Old Lahaina Luau takes great pride in presenting an authentic Hawaiian Luau on Maui. An evening of traditional cuisine, music, cultural dancing and island crafts will have you appreciating the genuine reflection of Hawaii's rich history while enjoying an ocean view and sunset.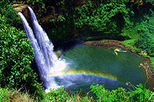 Maui Streams and Waterfalls Hiking Trek
Price: 92.00

A trip to Maui is not complete without a hiking trek to Maui's streams and waterfalls. Enjoy breathtaking views of natural forest, waterfalls and flowing streams. Explore the lush tropical beauty and constantly changing vistas and find out why the beauty of this region is world famous.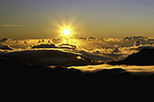 Spectacular Haleakala Maui Sunrise
Price: 90.59

Rising over 10,000 feet from sea level, Haleakala is renowned for its raw beauty and unique scenery-moving Mark Twain to write that his 1866 visit to this dormant volcano was '... the most sublime spectacle I ever witnessed 'and 'the memory of it will remain with me always.' Come and see first hand the raw beauty that inspired this most famous literary.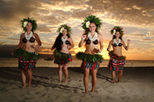 Kaanapali Sunset Luau in Maui
Price: 88.99

You'll be captivated by exotic dances from across Polynesia at a sunset luau in Kaanapali. From the lei welcome and imu (underground oven) ceremony to the bountiful Hawaiian buffet, you'll experience an evening of traditional Polynesian fun on Maui.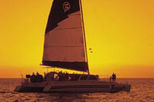 Maui Sunset Dinner Cruise Aboard the Teralani 2
Price: 87.75

For the perfect end to your day on Maui, take a sunset dinner cruise aboard the "Teralani 2". As the sun sets, you'll see some of Maui's most beautiful sights from the water.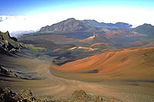 Haleakala, Iao Valley and Central Maui
Price: 87.49

Combine a scenic, expertly narrated tour to the summit of spectacular 10,023 foot high Haleakala with a visit to the unique Iao Needle located in lush Iao Valley State Park. Also visit the town of Wailuku, see flower farms and fields of pineapple and sugar cane. Be sure to bring your camera!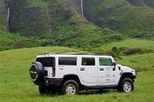 Hawaii TV and Movie Locations Small Group Hummer Tour
Price: 82.69

Venture off-road on a Hawaii TV and Movie Locations Hummer Tour and visit exotic movie locations including Jurassic Park, 50 First Dates and Godzilla, as well as the popular TV show Lost. Go where the tour buses can't go as you see the unspoiled beauty of Oahu.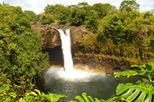 The Hawaii Waterfalls and Hamakua Coast Tour
Price: 75.00

A trip to the Big Island is not complete without a visit to the amazing waterfalls. Be seduced by the Rainbow Falls whose 89 foot (27 meter) high cascade hides an intriguing sacred cave. Or admire the spectacular Akaka Falls near the Hamakua Coast which drops 442 feet (135 meter) down a fern-draped cliff. With stunning views and amazing natural wonders, this Big Island tour will leave everyone in awe!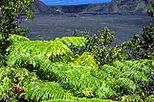 Big Island Hawaii Volcano Adventure
Price: 74.99

Standing on the edge of the Kilauea Volcano and peering down to see its molten lava flow is a Polynesian experience that will be with you forever. This day-long tour also takes you to Akaka Falls, a macadamia-nut factory, a fern tree jungle, and much more.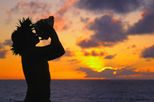 Lava Legends and Legacies Luau on the Big Island
Price: 74.99

A breathtaking backdrop of a vibrant Hawaiian sky displays the Kona Coast's best sunsets and provides a spectacular background. The oceanfront setting highlights the extraordinary energy and appeal of this dynamic and popular Polynesian show. Enjoy an evening of feasting, music and dance as you discover a journey through the South Pacific's legends and lore in historic Kailua-Kona.