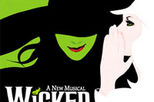 Wicked The Musical in Chicago
Price: 120.99

Wicked - The Musical, the untold story of the witches of Oz, is now playing in Chicago. Wicked is a true spectacle for the eyes and ears!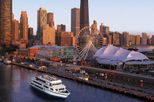 Chicago Dinner Cruise
Price: 101.79

Step aboard the Chicago Dinner Cruise and enjoy a three-hour escape on Lake Michigan. Relaxing in the elegant ambiance that only a true luxury cruising vessel can provide, you'll sail along the lake shore and have unmatched views of the world-famous Chicago skyline.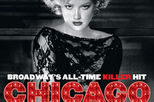 Chicago On Broadway
Price: 99.99

See Broadway's red-hot musical smash "Chicago", the recipient of six Tony Awards, two Olivier Awards, a Grammy and thousands of standing ovations.

Special Offer - Book by January 31, 2009 for Monday, Tuesday, Wednesday and Thursday shows (excluding December 22 to January 4) and the price displayed will include a discount of over 10% - BOOK NOW!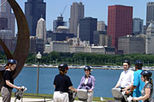 Chicago Segway Morning Tour
Price: 69.99

Hop on the most innovative tour to hit Chicago in years! Gliding around the Windy City on your very own Segway, you'll see all the famous sights - Buckingham Fountain, Navy Pier, Lake Michigan and more. Be one of the first to take part in this unique, unforgettable experience!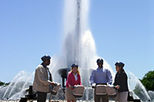 Chicago Segway Afternoon Tour
Price: 69.99

This Segway Tour is perfect for those new to the city as well as Chicago veterans. For the beginners, this 3-hour tour will offer you a fantastic orientation and give you an opportunity to see virtually all of the sites you know from movies, postcards and history.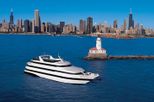 Chicago Brunch Cruise
Price: 67.79

Experience Chicago's amazing skyline views from a unique vantage point on board this unforgettable 2 hour brunch cruise. With unsurpassed views of the Sears Tower, the John Hancock Tower, to the Museum campus and the Aon Center, you'll be seduced by the luxury and spaciousness of the three climate-controlled dining and observation decks while sailing on the world-famous harbor.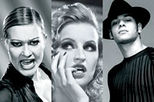 Chicago Theater Show
Price: 64.63

Combine a top price ticket to "Chicago" in London, the kiss-and-tell tale of chorus girl Roxie Hart, with a pre-theatre two course dinner at Dial restaurant in nearby Covent Garden.
Special Offer - Save up to 40% off the regular retail price of Premium tickets for weekday performances until 01 August 2009 - BOOK NOW!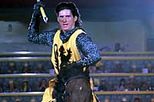 Medieval Times Dinner and Tournament in Chicago
Price: 62.59

Medieval Times is an adventure unlike any you have ever experienced before. During each live performance, guest enjoy an authentic medieval four-course feast while valiant knights battle to the death on horseback. Brilliant costumes and famous Andalusian horses add to the splendor of your visit. Cheer your brave knights to victory as they compete in games of skill, hand to hand combat and the joust!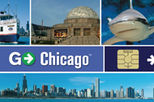 Go Chicago™ Card
Price: 59.99

The Go Chicago Card is the perfect way to save on your Chicago vacation. You'll get FREE admission to over 25 attractions and tours for one low price! Chicago has dozens of great attractions, so the Go Chicago Card has something for everyone.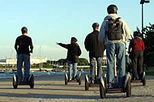 Chicago Segway Night Tour
Price: 59.99

Hop on the most innovative tour to hit Chicago in years! Gliding through the Windy City on an eco-friendly Segway is the coolest ride of the 21st century! Far easier than walking, and more unique and personalized than a coach tour, riding a Segway personal transporter is a once-in-a-lifetime experience.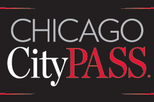 Chicago CityPass
Price: 58.99

Chicago CityPass is the best deal in the Windy City, giving you discounted admission to five of the city's premier attractions.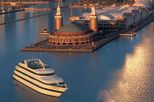 Chicago Lunch Cruise
Price: 54.29

Welcome aboard Chicago's largest luxury yacht at Navy Pier! Tantalize your taste buds and discover Chicago's wonderful city skyline on this two-hour lunch cruise. While you cruise, and enjoy a freshly prepared three-course meal, you'll enjoy magnificent views of the Windy City skyline and hear your favorite music from a live trio.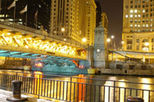 Chicago Club Crawl
Price: 53.99

After dark, hit two of Chicago's hotspots for the best in blues and late night entertainment. At each club you will be treated to some of the City's popular Blues artists and entertainers. Transportation, admission and a drink (beer or wine) will be included at each club.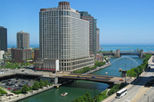 North Shore and Chicago Botanic Garden
Price: 51.99

Travel along Lake Shore Drive, through the North Shore via Green Bay Road to arrive at Glencoe-Chicago Botanic Garden. This 385 acre living museum features 23 specialty gardens set on a series of islands and lakes. Explore the garden by narrated tram, then visit the Garden Café for lunch.
This tour is seasonal and operates from 1 May to 28 October only.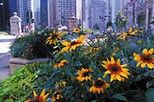 Chicago Grand Tour and Hancock Observatory
Price: 49.99

Experience the rich and fascinating mix of attractions which make Chicago the vibrant center of cultural activity that it is today. This tour captures the best that Chicago has to offer. There you will see a panoramic view and the famous skyline of Chicago, the city that taught the rest of the world how to build skyscrapers!