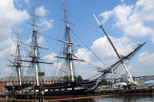 Boston Freedom Trail Day Trip from New York
Price: 149.00

Take a day trip from New York to explore Boston, a city of culture and old world charm. You'll follow the famous red-brick Freedom Trail through downtown Boston, passing 16 sights including Paul Revere's House and Boston Common.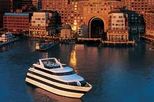 Boston Dinner Cruise
Price: 86.29

For the ultimate in elegance, you can't go past this three-hour dinner cruise on Boston's famous harbor. Enjoy fine dining, award-winning wines, and entertainment perfectly suited to the evening. Sit and relax as you listen to the music or take a stroll on the decks of Boston's premier dining ship as the city floats on by.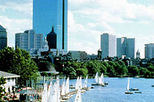 The Total Boston Experience
Price: 59.99

The best of old and new Boston have been combined with a journey into the historic countryside towns of Cambridge, Lexington and Concord. Highlights include a visit to the famous Quincy Market, as well as exploring 371 years of history, tradition and Yankee ingenuity of the Beacon Hill townhouses.
This tour is seasonal and only operates from May to October.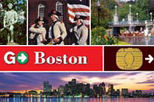 Go Boston™ Card
Price: 54.99

Explore Boston your own way with the flexible Go Boston Card. Do as much or as little sightseeing as you like, at your own pace while saving precious vacation dollars. Receive free admission to popular Boston attractions, and enjoy discounts on shopping and dining around town.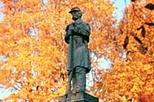 Boston Pilgrim's Path
Price: 51.99

Make the "Pilgrimage" south to historic Plymouth. Explore on your own the many historic sites along the waterfront and downtown. Docked just next to Plymouth Rock is a full-scale reproduction of the original ship, Mayflower II. Climb Cole's Hill to visit the Plymouth National Wax Museum where 180 life-size figures tell the pilgrims' story. The breathtaking view of Plymouth Harbor and Gurnet Light should not be missed!

This tour is seasonal and only operates from June to October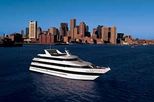 Boston Brunch Cruise
Price: 49.59

Admire the unforgettable sights of Boston on board this breathtaking climate controlled yacht. This cruise offers the most unique brunch setting on Boston's famous harbor. Relax and be captivated by the city skyline while enjoying a delectable buffet brunch menu.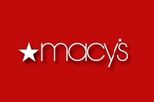 Macy's Boston Star Shopper Package
Price: 45.99

Make your stay in Boston truly memorable with a visit to Macy's, located in the heart of the historic city center. Discover all you favorite designer fashions, plus everything on your shopping list for your family and home.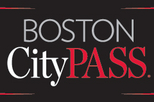 Boston CityPass
Price: 43.99

Most famous attractions at one amazing low price with plenty of time to see it all! And with a leisurely nine days to use all of the tickets, you can take everything in on a weekend break or take your time to visit these world famous attractions! See the Skywalk Observatory, New England Aquarium, Museum of Fine Arts and Museum of Science.

Special Offer - Activate your CityPass on or after December 15, 2008 and pass will be valid until March 15, 2009 (pass valid for one visit per attraction) - BOOK NOW!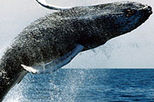 Boston Whale Watching Cruise
Price: 39.89

Looking for a whale watch that requires less travel time, offers the most comfortable ride available and gives you more time viewing some of the world's most fascinating marine creatures? Look no further!
This tour is seasonal and operates from April to October only.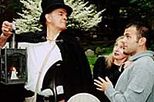 Boston Ghosts and Gravestones
Price: 34.20

This spirited tour will give you a light hearted look at the city of Boston's darker side as you hear the local tales and legends. The two hour journey will take you on a spine tingling trip through Boston's historic burial grounds and the streets once stalked by the Boston Strangler.
This product is seasonal and operates from April to October only.

Special Offer - Price displayed currently includes a discount of 5% off the normal retail price - BOOK NOW!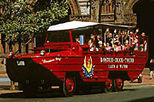 Boston Duck Tour
Price: 33.89

Water is no barrier for a duck, why should it be for you? A Boston Duck Tour is a wonderful way to get a great look at Boston on land and water. See all the major landmarks and hear the history of the city as you tour Boston in a renovated World War II amphibious vehicle.

Boston Hop-on Hop-off Trolley Tour
Price: 32.30

Discover Boston at your leisure with a one-day ticket on the Hop-on Hop-off Trolley Tour. Create your own itinerary to see the most popular sights of Boston at your own pace.

Special Offer - Price displayed currently includes a discount of 5% off the recommended retail price - BOOK NOW!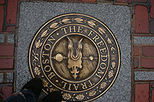 Boston Walking Tour: Footsteps to Freedom
Price: 29.99

For a walking tour with a difference - look no further. Boston is a wonderful, picturesque city and what better way to retain those memories than with spectacular photographs? On this 1.5 hour tour, you'll uncover the scenic treasures of the Freedom Trail, and also learn the secrets to taking great photos. See King's Chapel, Paul Revere's house and may more sights on this historic and fascinating Boston Walking Tour.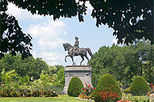 Boston Walking Tour: Postcards of Boston
Price: 24.99

A visit to Boston can be turned into art through your photographs! Bring your camera and imagination to embark on a fun photographic journey on this Boston Walking Tour. Discover the Public Garden, modeled on the Versailles Palace gardens in France, enjoy Boston Common, America's oldest public park and historic Beacon Hill. See Boston with a new perspective... through the lens of a camera.
This tour is seasonal and operates from 15 April to 15 September only.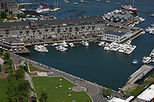 Boston Walking Tour: Boston Waterfront
Price: 24.99

Boston's harbor front has an extremely interesting and colorful history - from being home to glaciers, to the Boston Tea Party, to today - where it's a popular tourist attraction! Learn about Boston's first skyscraper, John Hancock's money and of course - the beautiful Boston waterfront on this historic Boston Walking Tour.
This tour is seasonal and operates from 15 April to 15 September only.