For dec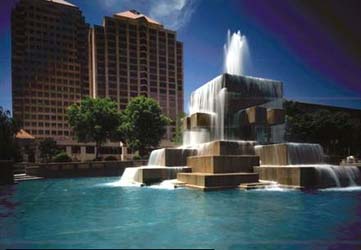 ades motorists have gotten their kicks on Route 66, which wends its way through downtown Albuquerque on Central Avenue. This high desert city at the foot of the Sandia Mountains boasts a rich cultural heritage of Mexican, Native American, and Anglo traditions.

From the banks of the Rio Grande to the Native American pueblos and reservations to the old Spanish missions, Albuquerque has retained much of its historical appeal as a Wild West frontier town. Its location in Central New Mexico makes it an ideal base for day trips north to Santa Fe (60 miles), Los Alamos (90 miles) or Taos (130 miles).
Visitors will find history all around them, but those with modern-day tastes will enjoy the local casinos, skiing on Sandia Peak, and the annual Kodak Albuquerque Balloon Fiesta event, which draws hot-air balloon enthusiasts and pilots from all over the world. With so many options to choose from, the easiest choice you'll make is "red or green," to indicate what type of chile pepper you'd like in your meal.